Visiting Speakers Calendar
Program Details AGENCY URGENCY Learning with the Global South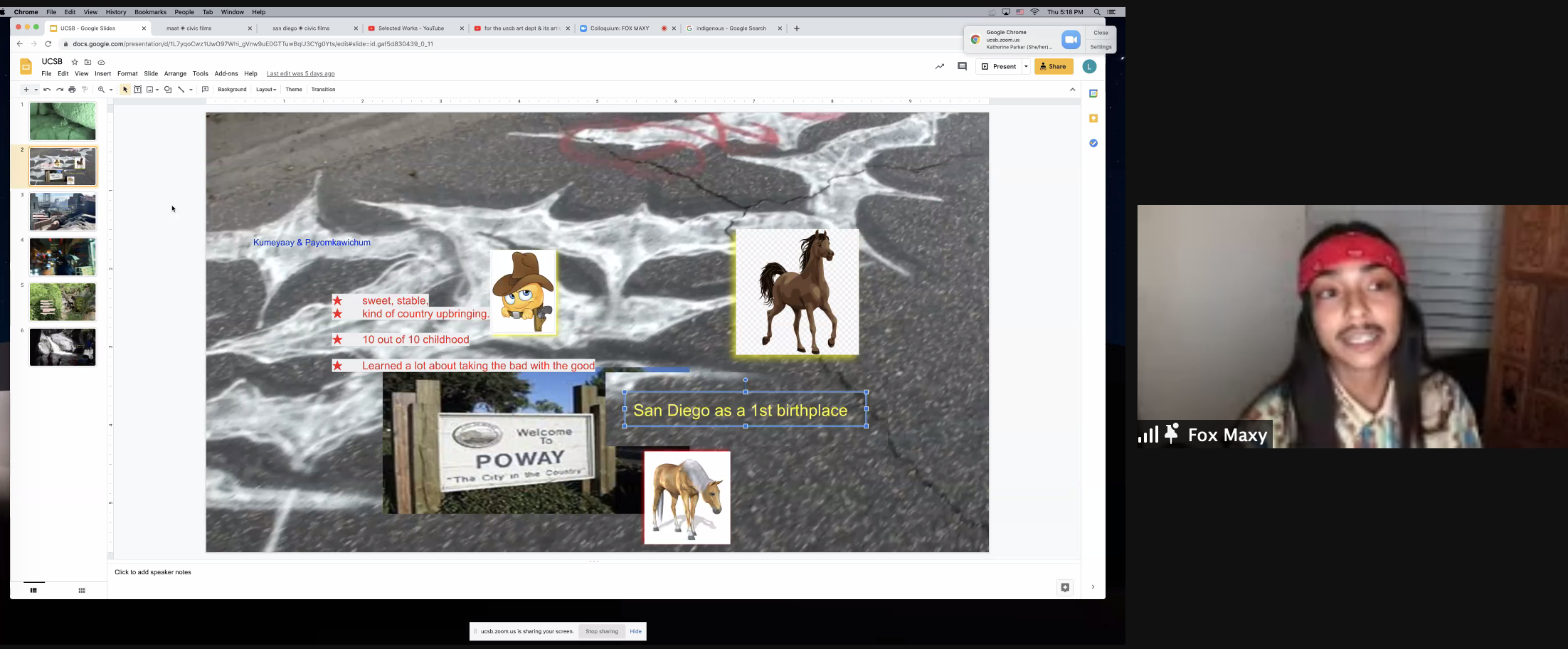 UCSB Department of Art
Visiting Artist Remote Arts Colloquium

Fall 2020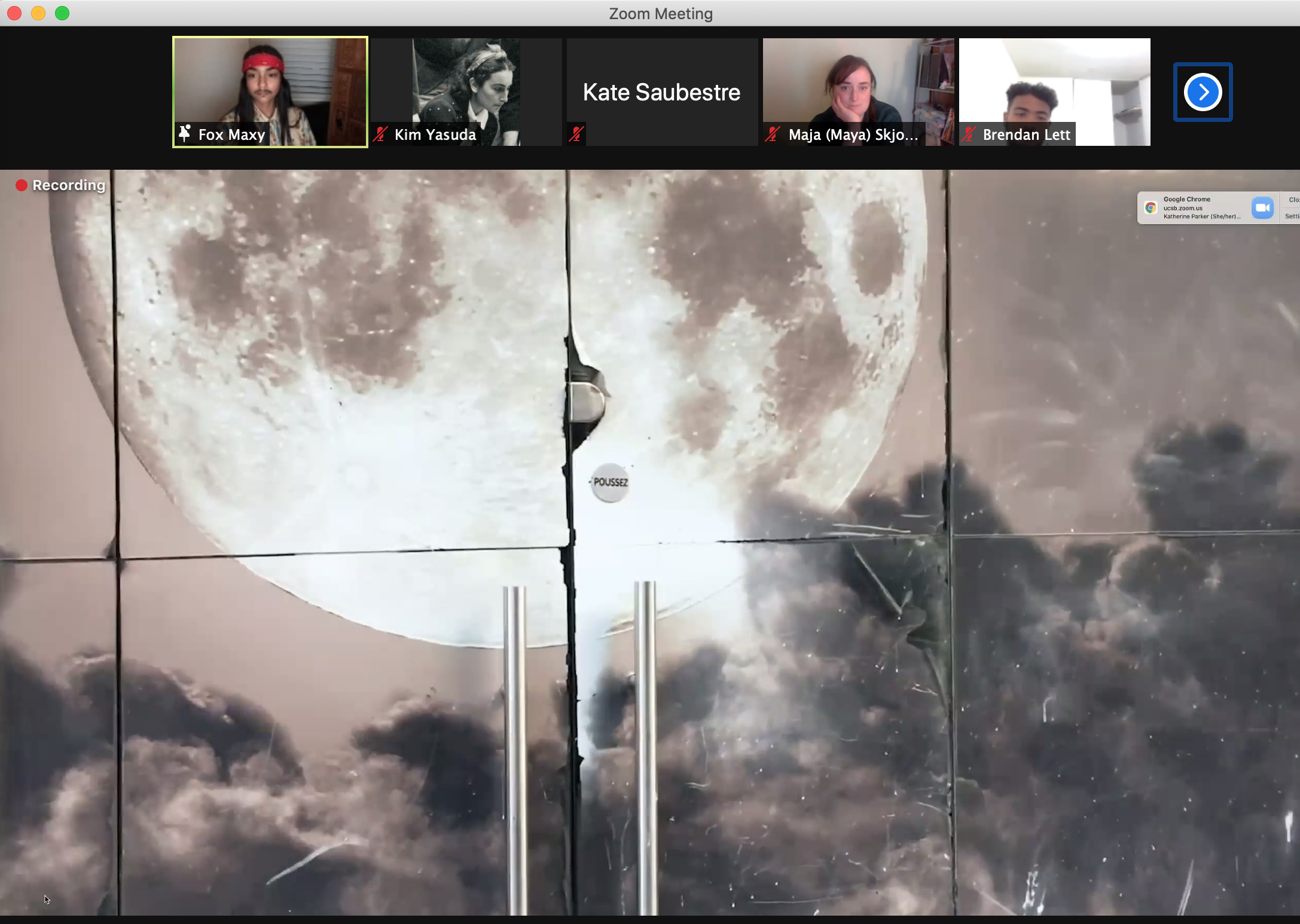 The UCSB Department of Art Fall 2020 Visiting Artist Colloquium features ten synchronous Artist Talks that are scheduled each Thursday evening from 5:00-6:50 (October 8 through December 10). The exception is the week of Thanksgiving when the talk is scheduled on Monday, November 23 from 5:00-6:50. Zoom links will be sent out each week.
The program offers a wide range of voices in dialogue, exploring the topics of contemporary art, theory, and cultural production by emerging and established visiting artists, as well as members of UCSB's own campus faculty.
SCHEDULE:
Thursday, October 8: Iman Djouini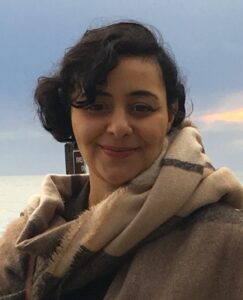 Iman Djouini, born Algiers, Algeria, is an interdisciplinary artist who works primarily in print media, photography, animation and site-specific installation. Her research-based practice explores the intersection and confluence of art, culture, identity, politics, and poetry within the realm of new media. Recent works examine how language and design can be tools used to shape perception in contested cultural and political histories.
Djouini received a Master of Fine Arts in Printmaking from Tulane University and a Bachelor of Fine Arts Double Major in Painting and Art History from The Maryland Institute College of Art.
Her work has been exhibited internationally including at Parcours De L'art in Avignon, France, ArtLab Gallery in Tokyo, Japan and Feral Gallery in Mexico City, Mexico. National exhibitions include MASS Gallery in Austin Texas, and The Transmodern Festival at The Peal Museum in Baltimore City. Djouini has received numerous grants and awards including a fellowship in the Rare Books and Manuscripts collection at The Walters Art Museum and most recently the Baltimore Promotion for the Arts Grant in Baltimore City for the work Light Elephant. Djouini is a new faculty member in the UCSB Department of Art and in the College of Creative Studies. https://imandjouini.com
Thursday, October 15: Alex Lukas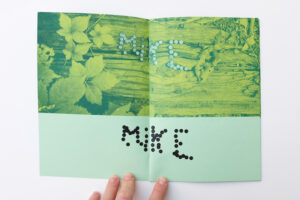 Alex Lukas was born in Boston, Massachusetts, and raised in nearby Cambridge. With a wide range of influences, Lukas' practice is focused on the intersections of place and human activity, narrative, history, and invention. His fieldwork, research, and production reframe the plebeian, monumental, and incidental, through intricate publication series, sculptures, drawings, prints, videos, and audio collages.
Lukas received his MFA from Carnegie Mellon University and a BFA from the Rhode Island School of Design. His work has been widely exhibited at disparate venues including the Gallery Steinsland Berliner, Stockholm, Guerrero Gallery, San Francisco, Zevitas Marcus, Los Angeles, The Luminary, St. Louis, UPFOR, Portland, OR, Center for Maine Contemporary Art, Rockland, The Mission, Chicago, Kunsthal Charlottenborg, Copenhagen, Denmark; and is included in the collections of the Pennsylvania Academy of the Fine Arts, the Kadist Foundation, the Philadelphia Museum of Art, the Spencer Museum of Art, the MIT List Visual Arts Center's Student Loan Art Collection, the New York Public Library, and the Library of the Museum of Modern Art. He is a new Assistant Professor in the Department of Art at the University of California, Santa Barbara, in Expanded Print and Publication. https://www.alexlukas.com
Thursday, October 22: Harry Gamboa Jr.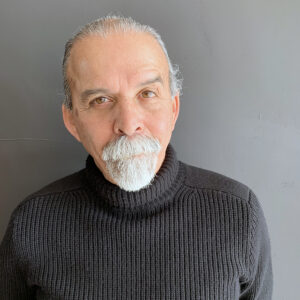 Harry Gamboa Jr. is an artist, author, and educator. He is the founder and director of the international performance troupe, Virtual Vérité (2005-2017).  He is also a co-founder of Asco (1972-1985), the Los Angeles-based performance group. He is Co-Director, Photo/Media Program, California Institute of the Arts.
His work has been exhibited nationally/internationally: Ludwig Museum, Cologne (2020); Smithsonian National Portrait Gallery (2019); Marlborough Contemporary, New York (2017); Whitney Museum of American Art, New York (2016, 2015 and 1995 Biennial); Centre d'Arts Plastiques Contemporain Bordeaux, France (2014); De Appel, Amsterdam (2014); Lentos Kunstmuseum Linz, Linz, Austria (2013); Nottingham Contemporary, Nottingham, England (2013); Smithsonian American Art Museum, Washington D.C. (2013); Le Musée d'Art Contemporain, Marseille, France (2013, 2017); Museo Universitario Arte Contemporáneo (UNAM), Mexico City (2013); Tate Liverpool, Liverpool, England (2013); Museo del Palacio de Bellas Artes, Mexico City (2011, 1981); Musée de l'Élysée, Lausanne, Switzerland (2009); Los Angeles County Museum of Art (2011, 2008, 2001); Centre Pompidou, Paris, France (2006); Statens Museum for Kunst, Copenhagen, Denmark (1996); Museum of Modern Art, New York, NY (1994).
He is the author of Xoloitzcuintli Doppelgänger and other stories.  His recent essays have appeared in Pfeil No. 10 (Hamburg), and Exploring Commonism A New Aesthetics of the Real (Antwerp).  He is the author of Urban Exile: Collected Writings of Harry Gamboa Jr., edited by Chon A. Noriega, University of Minnesota Press, 1998.
Harry Gamboa Jr. is a faculty member of the Photo/Media Program at California Institute of the Arts. He is a lecturer with the Chicana/o Studies Department at California State University, Northridge. https://harrygamboajr.wordpress.com
Thursday, October 29: Narcissister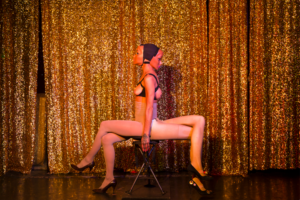 Narcissister is a Brooklyn-based artist and performer. Masked and merkin-ed, she works at the intersection of dance, art, and activism in a range of media including live performance, film, video, collage, and sculpture. She presents work worldwide at festivals, nightclubs, museums, and galleries. She won "Best Use of a Sex Toy" at Good Vibrations Erotic Film Festival, a Bessie nomination for the theatrical performance "Organ Player", Creative Capital and United States Artists Awards, and interested in troubling the popular entertainment and experimental art divide, she appeared on America's Got Talent. Her first feature film "Narcissister Organ Player" premiered at Sundance 2018. Her activist short film "Narcissister Breast Work" premiered at Sundance 2020.  http://www.narcissister.com
📷 Photo Credit:   Sarah Lyon

Trigger Warning: Sexually explicit material will be shown in this Artist Talk. While we encourage all registered students in Art 1C to attend, they have the option of doing a 2-page research paper in lieu of attendance. Please contact the professor if you require this option.
Thursday, November 5: Nicholas Galanin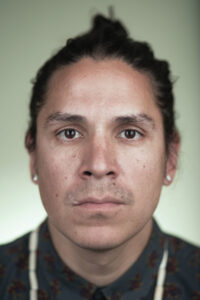 Nicholas Galanin (Tlingit/Unangax) is a Multi-Disciplinary Artist. His work engages contemporary culture from his perspective rooted in connection to land. He embeds incisive observation into his work, investigating intersections of culture and concept in form, image and sound. Galanin's works embody critical thought as vessels of knowledge, culture and technology – inherently political, generous, unflinching, and poetic.
Galanin engages past, present and future to expose intentionally obscured collective memory and barriers to the acquisition of knowledge. His works critique commodification of culture, while contributing to the continuum of Tlingit art. Galanin employs materials and processes that expand dialogue on Indigenous artistic production, and how culture can be carried. His work is in numerous public and private collections and exhibited worldwide. Galanin apprenticed with master carvers, earned his BFA at London Guildhall University, and his MFA at Massey University, he lives and works with his family in Sitka, Alaska. https://galan.in
Thursday, November 12: Michelle Angela Ortiz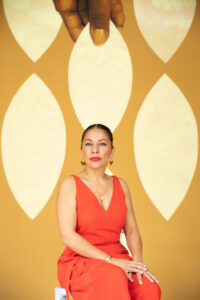 Michelle Angela Ortiz is a visual artist/ skilled muralist/ community arts educator/ filmmaker who uses her art as a vehicle to represent people and communities whose histories are often lost or co-opted. Through community arts practices, painting, documentaries, and public art installations, she creates a safe space for dialogue around some of the most profound issues communities and individuals may face. Her work tells stories using richly crafted and emotive imagery to claim and transform spaces into a visual affirmation that reveals the strength and spirit of the community.
For 20 years, Ortiz has designed and created over 50 large-scale public works nationally and internationally. Since 2008, Ortiz has led art for social change public art projects in Costa Rica & Ecuador and as a Cultural Envoy through the US Embassy in Fiji, Mexico, Argentina, Spain, Venezuela, Honduras, and Cuba.
Ortiz is a 2020 Art For Justice Fund Grantee, PEW Fellow, Rauschenberg Foundation Artist as Activist Fellow, and a Kennedy Center Citizen Artist National Fellow. In 2016, she received the Americans for the Arts' Public Art Year in Review Award which honors outstanding public art projects in the nation. www.michelleangela.com
Thursday, November 19: Lisa Diane Wedgeworth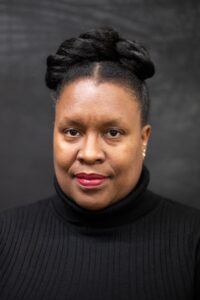 Lisa Diane Wedgeworth is an interdisciplinary artist whose large-scale abstract paintings are informed by memory and employ energetic mark-making to interpret psychological and emotional energies. She has been invited to exhibit her work in Los Angeles, North Carolina, Scotland and Paris; and to perform at Williams College and Northwestern University. She is a recipient of the 2020 COLA Individual Artist Fellowship and has lectured about her work at NAMI (National Alliance on Mental Illness, Franklin County, OH), OTIS, California State University Los Angeles, Chapman University and Los Angeles City College where she is a part-time faculty member. A cultural producer, Wedgeworth exhibited emerging artists in her studio-based project space PS 2920 between 2015 – 2016 and recently launched the public platform, Conversations About Abstraction to share the voices of abstract artists historically excluded from the Western canon.
https://www.lisadianewedgeworth.com
*Monday, November 23: Tia-Simone Gardner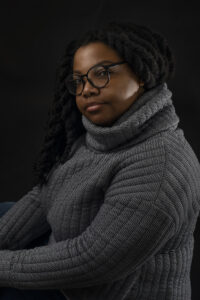 Tia-Simone Gardner is an artist, educator, and Black feminist scholar from Fairfield, Alabama. Working primarily with photography, moving-image, and drawing, her practice is deeply grounded in interdisciplinary strategies that activate ideas of ritual, iconoclasm, and geography. Gardner holds an MFA in Interdisciplinary Practices and Time-Based Media from the University of Pennsylvania and Ph. D. in Feminist Studies from the University of Minnesota. She is currently working on a photographic/writing project with her mother that juxtapose questions of biopolitics, Black Southern familial memory and geology with vignettes of extractive capitalism.  https://www.tiasimonegardner.info
*Students registered in Art 7B are permitted to attend the Artist Talk and watch the recorded 7B lecture the following day.
Thursday, December 3: Miwa Matreyek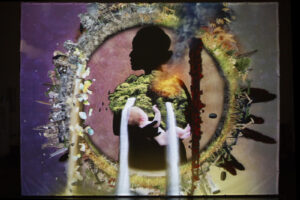 Miwa Matreyek is an animator, director, designer, and performer based in Los Angeles. Coming from a background in animation, Matreyek creates live, staged performances where she interacts with her animations as a shadow silhouette, at the intersection of cinematic and theatrical, fantastical and tangible, illusionistic and physical, and the hand-made and digital. Her work exists in a dreamlike visual space that makes invisible worlds visible, often weaving surreal and poetic narratives of conflict between humanity and nature as embodied performed experinces. She performs her interdisciplinary shadow performances all around the world, including animation/film festivals, theater/performance festivals, art museums, science museums, tech conferences, and universities. A few past presenters include TED, MOMA, SFMOMA, Sundance New Frontier, ISEA conference, REDCAT, and many more.
Her latest solo piece, Infinitely Yours (2020), is a kaleidoscopic interpretation of the increasingly alarming headlines from the last 4–5 years and the artist's own climate anxiety: destructive weather, floods and droughts, extraction and pollution, and our worry about an uncertain future. The piece features the artist's silhouette figure in shadow that morphs through scales and points of view—from one individual, to all of humanity, to the earth itself, switching at a turn from scene to scene. The figure drown in an ocean full of plastics, rise and fall with the city, and choke on smog.
Matreyek received her MFA for Experimental Animation and Integrated Media from CalArts in 2007. She is also a co-founder and core-collaborator of the multi-media theater company, Cloud Eye Control. She is a recipient of the Golden Nica for Computer Animation at Prix Ars Electronica (2020), Sherwood Award (2016), Creative Capital Award (2013), and Princess Grace Award (2007).
http://www.semihemisphere.com/
Thursday, December 10: Fox Maxy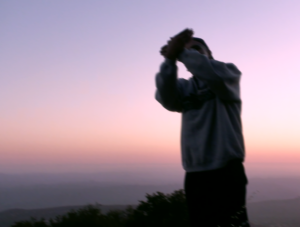 Fox Maxy is a filmmaker and artist. He is Native to California from two different tribes, Kumeyaay & Payómkawichum from San Diego. Instead of treating art like a form of answering questions, Fox prefers to make work out of a more fluid place where nothing is permanent. He believes that film is accessible and everyone is a storyteller in some way.  Fox's films have been featured at LACMA and he has been written about in Hyperallergic. https://www.civicfilms.org