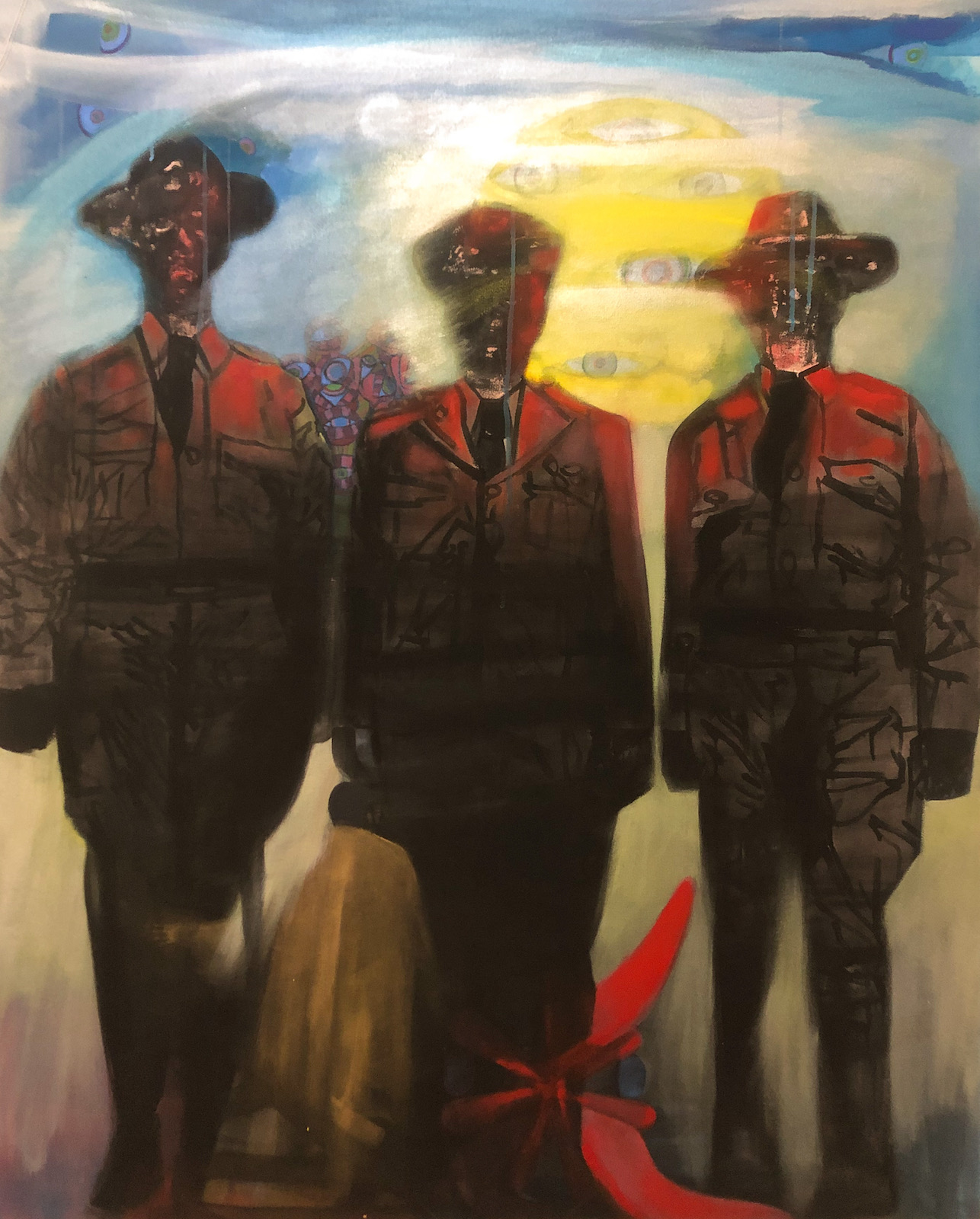 Summer 2021 Culture and Community Program awarded to Dr. Jennifer Vanderpool
Posted on
August 16, 2021
Summer 2021 Culture and Community Program Award
The Art Department is excited to announce that the Summer 2021 Culture and Community Program awarded Dr. Jennifer Vanderpool a grant to develop a five-part lecture series on transdisciplinary practices in contemporary art and curatorial practices. She will incorporate these lectures into the Summer Session B Art 126 Introduction to Contemporary Theory course.
The lectures will range from an investigation of race and museology to a discussion of art created in America's concentration camps, an artist talk by a political refugee, and the intersection of identities, media, and Post-Internet Art. For more information about the presentations and speakers, please read more!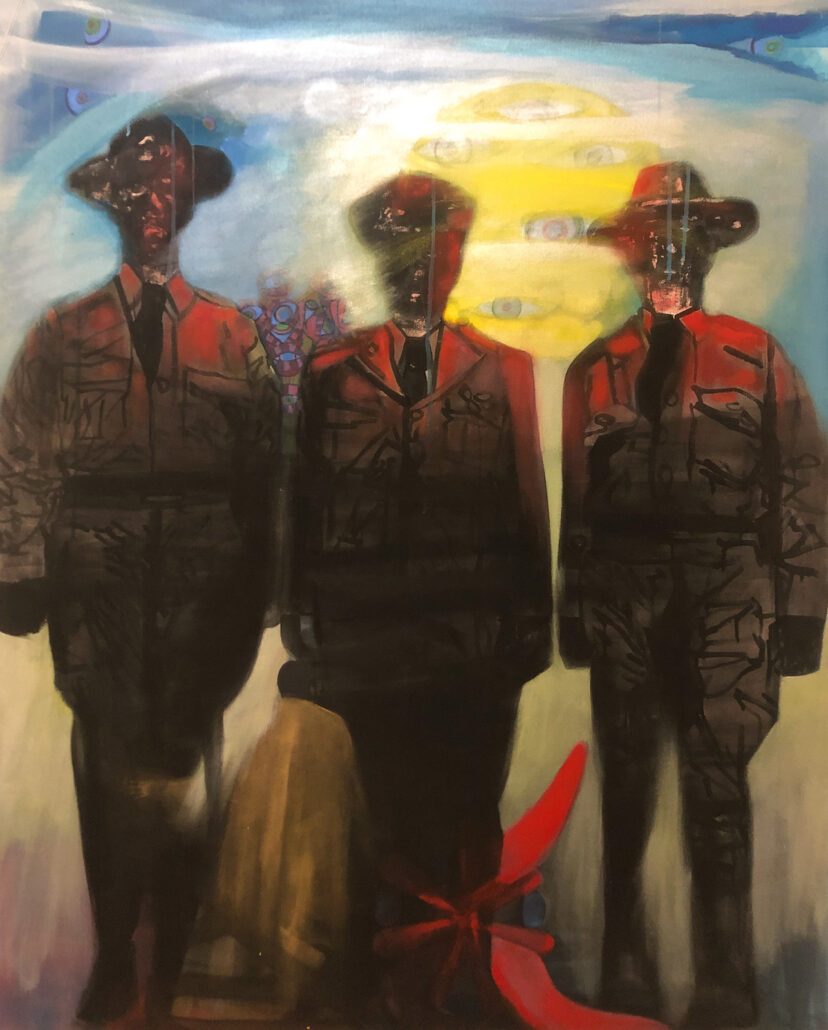 Walpa D'Mark
Wilt Has Existential Angst 2, 2019
Acrylic on Canvas, 42″ x 52″
Lectures and Speakers Bios:
Walpa D'Mark
Los Angeles-based artist Walpa D'Mark was born in Managua, Nicaragua, and his family migrated to the United States in 1982 under political asylum status. He has exhibited extensively in the L.A. arts community, including at Track 16, Mark Moore Gallery, Coagula Curatorial, and Torrance Art Museum. Internationally, he has exhibited in South Korea, Mexico, and Germany. D'Mark is a Senior Adjunct Professor at the University of La Verne and a Lecturer at Loyola Marymount University. He holds a BFA in Drawing and Painting from California State University, Long Beach, and an MFA in Painting from Claremont Graduate University.
D'Mark will present an artist talk titled "Rotten Bananas," discussing his figurative paintings querying immigration and historical intersections between Nicaraguan and American histories.
Hallie Maxwell
Educated in California and based in Idaho, artist and cultural practitioner Hallie Maxwell specializes in Japanese American art and art history. She is a founding partner artist with the Idaho Museum of the International Diaspora, scheduled to open in 2023. Maxwell is the granddaughter of survivors of the atomic bombing of Hiroshima, Japan.
Maxwell will discuss Art Created in America's Concentration Camps and the Twentieth-Century legacy of these artists and their work. During World War II, the U.S. government incarcerated 120,000 people of Japanese descent, most of whom were U.S. citizens. Art enabled these incarcerated peoples to cope with their imprisonment and document the camps' harsh realities. Some survivors emerged as significant figures in twentieth-century post-war American Art.
Rachel T. Schmid
Rachel T. Schmid is the Curator of Collections and Exhibitions at California Lutheran University. She directs the William Rolland Gallery of Fine Art and Kwan Fong Gallery of Art and Culture. There, Schmid curates exhibitions and programming and manages the university's permanent collection. She holds a B.A. from UC Los Angeles and an M.A. from the University of Notre Dame, both in Art History. Schmid is currently completing her doctorate in Cultural Studies with an emphasis in Museum Studies at Claremont Graduate University. Her research fundamentally interrogates the constructed nature of "audience" within museum spaces.
Schmid will present a two-part lecture titled "Exhibits of Man: Shaping of Race and the Museum," in which she will discuss the interconnected natures of museum culture and race through the lens of critical race and gender theory. It will focus on the ways race is an essential foundation upon which the museum is based–beginning with colonial origins of collections and the unification of the sciences and spectacle, the presentation will cover the how and why of display in relation to perceptions of the subaltern and self, from human zoos and world's fairs to degenerate art. The talk will clarify links between our current criticisms of the museum space around race with historical iterations and precedents.
Vid Simoniti
Dr. Vid Simoniti is director of the graduate program in Art, Aesthetics and Cultural Institutions at the University of Liverpool. He publishes in philosophy and art history, focusing on how art can bring about social and political change. Currently, he is also a BBC New Generation Thinker and the host of "Art Against the World" podcast with the Liverpool Biennial. Before joining Liverpool University, Simoniti was the inaugural Jeffrey Rubinoff Junior Research Fellow at Churchill College, the University of Cambridge. He holds a Ph.D. from the University of Oxford.
Simoniti will discuss Post-Internet Art and Alt-Right Visual Culture. In the late 2000s and in the 2010s, two movements have used visual production techniques that hark back to the work of the early twentieth century Dadaists. The first was a strand of contemporary art, known as Post-Internet Art, directed mainly at those who visit biennials, galleries, and museums. The second was the anonymous makers of the neo-fascist (Alt-Right) visual culture, whose products are spread through online platforms and social media. Digital artists' hijacking of contemporary forms of content reproduction, Simoniti argues, can only be adequately assessed within the broader context of this new war of images.
Xarabyte
Xarabyte is a Philadelphia-based interdisciplinary artist who explores their queer Mexican-American identity and multifaced community through visual art mediums, cultural organizing, and hosting the weekly podcast 2QUEER2CARE. Their work was featured in the 2020 exhibition You, Me, & They Portraying Us at the José Druids-Biada Art Gallery at Mount Saint Mary's University Los Angeles. They are a graduate of the College of Creative Studies at UC Santa Barbara.
Xarabyte will discuss Queer Art Culture: Co-opting Gender, Race, and Mediated Creative Production in 2021. Drawing on historical and contemporary imagery, video, performance, and material culture to develop their lecture, they will address the legacy of the late-twentieth-century Gay Rights and AIDS Activism and the Queer Art Movements intersection of creative production and civil rights to contextualize a discussion of current more inclusive efforts. The LBTQ+ movement in the twenty-first century incorporates race, class, and innovative arts economic agency through mediated production and NFT sales.