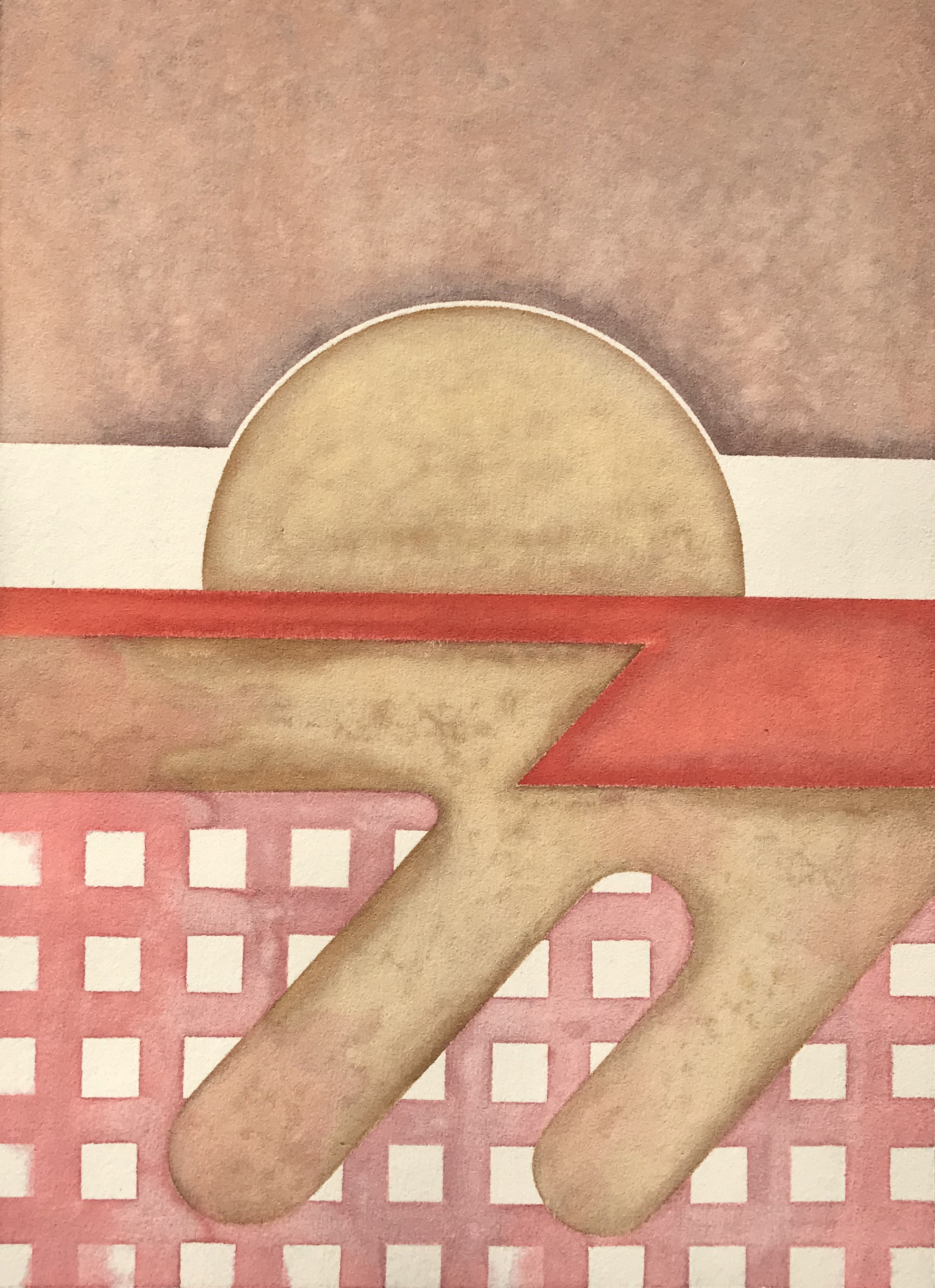 Solo Exhibition: Nathan Hayden – Strong Magic
Posted on
February 13, 2018
[av_textblock size=" font_color=" color=" av-medium-font-size=" av-small-font-size=" av-mini-font-size=" admin_preview_bg="]
CB1 GALLERY ANNOUNCES SOLO EXHIBITION OPENING FEBRUARY 24, 2018
NATHAN HAYDEN
Strong Magic
FEBRUARY 24-APRIL 7, 2018 RECEPTION FOR THE ARTIST: February 24, 4-7 p.m.
Los Angeles, CA (February 9, 2018)—CB1 Gallery is pleased to announce, Strong Magic, an exhibition of new work by Nathan Hayden. The show, his third solo exhibition at the gallery, will open on February 24 and remain on view through April 8. An opening reception will be held on Saturday February 24 from 4:00 pm until 7:00 pm, with an hour long dance performance by the artist starting at 4pm. Hayden's recent paintings on felt, ceramic sculptures and a site-specific wall drawing create mystical landscapes out of archetypal shapes and patterns.
Dancing to conjure visions is a daily part of Hayden's practice by which he synthesizes geographical features, biological forms, and architecture into paintings and sculptures. These works are reflective of both inner and outer landscapes and oscillate between abstraction and figuration.
Combining geometric shapes and patterns that symbolize elements of nature the felt paintings depict psychedelic landscapes. Each composition contains a circle representing a celestial body, the sun, the moon or a distant star or planet, marking the passage of time or changing of seasons. A palette that combines bright pinks, oranges, greens and blues with muted earth tones is bonded to wool fibers, refracting light, lending the colors a soft glow.
The clay sculptures inhabit the space like figures or creatures, the warm purple-pink tone of their exposed earthenware surfaces imbue them with a fleshy quality, while their roughness evokes that of adobe houses. The imagined creatures are composites of simple shapes culled from animal and human forms.
A large scale pattern painted with black ink on the rear gallery wall alludes to rhythms and the underlying structures of the universe. The immersive painting envelopes viewers, placing them within Hayden's imaged terrain.
Growing up in the woods of West Virginia in a log cabin built by his father with early interests in biology and engineering, Hayden developed an affinity for patterns and structures found in nature. His initial exposure to the outdoors proved formative in how he chooses to abstract the world around him.
Nathan Hayden (b. 1977) is currently the subject of an exhibition surveying the past 15 years of his work at KMAC Museum in Louisville, KY, through April 8. He received his MFA from University of California, Santa Barbara, his BFA from Miami University and currently lives and works in Santa Barbara, CA where he teaches drawing at UCSB and Santa Barbara City College.
Gallery hours are Tuesday – Saturday, 10:00 a.m. – 6:00 p.m.
Directions/Parking:
From the I-10 heading east, take the Santa Fe exit, turn left on Porter St., turn right onto S. Santa Fe Ave., the gallery is on the right. From the I-10 heading west, exit at Mateo/Santa Fe exit, turn right at the exit onto 8th St., take the first right onto S Santa Fe Ave., the gallery is on the right.
In addition to street parking, parking is available in a lot immediately south of the gallery on Santa Fe and in a lot behind the gallery (in the alley).
###
For more information about the artist or the exhibitions contact Clyde Beswick, Gallery Director at 213-806- 7889 or clyde@cb1gallery.com. www.cb1gallery.com.
[/av_textblock]