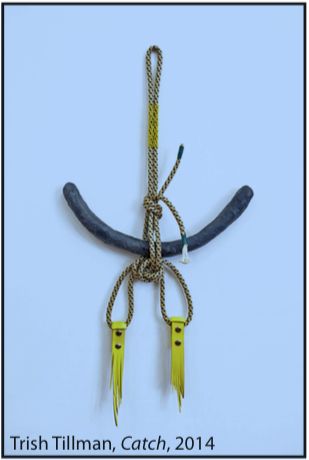 Materialist – an exhibition featuring graduates Patrick Melroy, Cathy Ellis, and current grad Matt Allison
Posted on
February 2, 2015
---
02/07/2015 – 02/28/2015
Opening Reception: 02/07/2015, 6-10pm
Elephant Gallery: 3325 Division Street Los Angeles CA 90065
Artists: Matt Allison, Cathy Ellis, Alexis Granwell, Ryan Carr Johnson, Patrick Melroy, Trish Tillman
Curated by: Megan Mueller and Sam Scharf
"We are the things that know us." -Jennifer Doyle
LOS ANGELES – Elephant Gallery is pleased to present Materialist, a group exhibition featuring the work of six artists at the forefront of exploring the potential of material as subject. Materialist investigates strategies of production that consider site specificity, function, artifact, and redirection. The materials used by each artist create pluralistic interpretations of the objects as they are presented. Resisting traditional classification, the works exist as both ruin and artifact, serious and whimsical, unresolved and rigorous. While maintaining a transformational ambition, the artists create a tangible energy that derives from the investigations and demands placed upon the materials they've chosen. From carrying objects on our backs to presenting previously unknown relationships between materials, this exhibition displays a full range of work that embodies the Materialist.
---
Matt Allison investigates the way people make places for themselves, with a particular enthusiasm for acts of intervention and re-purposing. He has completed site-specific projects in Florida, New York City, and California. He recently created an installation at University of California, Santa Barbara in response to the disappearing lake system of Keystone Heights, FL and the grassroots activism it has inspired. He received his BA from Ringling College of Art and Design in 2004, and will receive his MFA from the University of California, Santa Barbara in the spring of 2015.
Trish Tillman, Catch, 2014
Cathy Ellis received her BFA from Sonoma State University and her MFA from the University of California, Santa Barbara in 2014. She has exhibited nationally, including exhibitions at The Museum of Contemporary Art, Santa Barbara, Minan Gallery, Los Angeles, CA, Cal State Channel Islands, Ca- marillo, CA, 186 Carpenter, Providence, RI, Sonoma Valley Museum, Sonoma, CA, SFMOMA Artist's Gallery, Trillium Press, and Southern Exposure, San Francisco. She is currently a Teaching Fellow at the College of Creative Studies, University of California at Santa Barbara, and the 2014 winner of the Howard Fenton Award for Painting.
Ryan Carr Johnson earned his Bachelors of Fine Art in painting from the Corcoran College of Art + Design and his Master of Fine Arts degree from American University in 2013. Ryan currently lives and works in greater DC area. His work has been shown repeatedly in the Strickly Painting exhibitions, both Pulse and Scope Miami, galleries, universities, and museum exhibitions. Most recently his work was included in the Bathesda 10th annual Painting Awards, in addition his first solo exhibition at McLean Center for the Arts entitled "Remember Me as I was." Materialist will be his first time exhibiting his work on the west coast.
Alexis Granwell has exhibited internationally and nationally, including exhibitions at Europos Parkas Museum, Vilinius, Lithuania, IPCNY, NY, Momenta Art, NY, Hemphill Gallery, Washington DC, University of Richmond Art Museum, VA, Arlington Center for the Arts, VA, The Print Center, PA, Fjord Gal- lery, PA, Lawndale Art Center, TX and Bryan Miller Gallery, TX. She recently had solo exhibitions at Towson University, MD and Giampietro Gallery, CT Her work has been reviewed in The Philadelphia Inquirer, The Washington Post, The Globe and Mail and New American Paintings. Granwell received her MFA at the University of Pennsylvania. She teaches at Tyler School of Art and Moore College of Art and Design. She is one of the founding members of Tiger Strikes Asteroid, an artist collective, in Philadelphia.
Patrick Melroy currently maintains a studio practice in the city of Santa Barbara California. Melroy's practice exists most often as interactive objects and experiences designed to engage an audience. His work has appeared in shows from Belgrade Serbia to Los Angeles California. He was a founding member of the influential Uppur Bunk Collaborative and a charter member of Bottled Lightning Projects in Portland Oregon. Currently Melroy can be heard as the host of the podcast Towned produced by Pullstring Press. He received his MFA from the storied Department of Art at the University of California at Santa Barbara.
Trish Tillman received an MFA from School of Visual Arts and a BFA from James Madison University, with additional studies at the University of Wolverhampton, UK. She is a recipient of the Joan Mitch- ell Foundation 2009 MFA Grant and has received grants through the D.C. Commission on the Arts and Humanities as well as the Baltimore Office of Promotions and the Arts. She has most recently exhibited her work with Emerson Dorsch, Miami, FL; Regina Rex, NY; Present Company, NY; Slag Gal- lery, NY; Nudashank, MD; and Civilian Art Projects, Washington, D.C. Tillman is a Professor of Art and Design and has taught at Monmouth University, George Washington University, Rutgers University and the University of Maryland. She has an upcoming solo exhibition at Asya Geisberg Gallery in New York.