Juliana Bell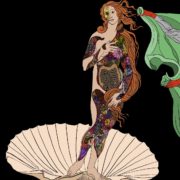 Julia Bell is an interdisciplinary artist based in Santa Barbara, California. Working in both digital and analogue mediums, she is led by a desire to capture the breadth of human expression. Driven by constant exploration of her own identity, her work explores themes of connection, voyeurism and vulnerability.
---
Kris Carillo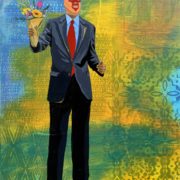 Kris Carrillo investigates socio-political trends and popular culture with saturation and color. Through layering Carrillo sheds light on social contradictions and raises ethical question. He creates multilayered compositions mixing medias like collage, paint, stencil, and drawing mediums. Carrillo's process recontextualizes the notions behind familiar imagery.
Kris Carrillo was born and raised in Los Angeles County and is currently based in Santa Barbara, California. His work has been shown at Los Angeles Pierce College, University of California Santa Barbara, 10 West Gallery, SB CAW. This year his work was shown In WORD magazine and later this year will be published in Matchbox Magazine. Carrillo was also the recipient Mahoney Scholarship for Art 2020.
---
Sarah Dill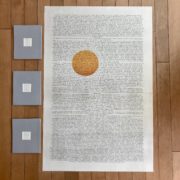 Sarah Dill is a mixed media artist that pushes the boundaries of long-lasting print techniques. By combining performance art with print media her imagery produces a playful narrative of her life experiences. Her relationship with spirituality offers a dream-like encounter to her work which is often tinged with an environmental twist.
---
Sophia Fleming
Sophia Fleming is an interdisciplinary artist working in painting, installation, and ceramics. Her work is a landscape of approachable figures and charming colours from a far away world. It is a playful articulation of those abstract thoughts that keeps her up at night. By deeply exploring abstract problems in many mediums she can figure it out and how it relates to herself, to others and our world. Her exploration often starts with personifying the idea, then interconnecting different pieces through installation. She installs her paintings next to found birds nests and alien ceramic vessels to welcome viewers in from a point of familiarity and encourage a departure into more serious contemplation on the temporality of life and the interconnectedness of everyone and everything.
---
Davey Groke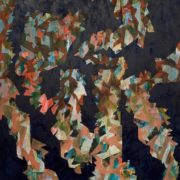 Davey Groke's paintings function as a release of emotional impulses withheld in everyday life. He explores the suppression and denial of mental health disorders, both in his personal life and within society. He depicts emotions that accompany this, specifically agitation, aggression, grandeur, depression, and disillusionment. His process incorporates equal parts preservation and destruction through the use of tape to protect regions from new coats of paint. The removal of tape reveals the final, chaotic piece, characterized by vibrant colors, overflowing regions, and energetic brushwork.
---
Catherine Holland

Catherine Holland is driven by an interest in perception and psychological responses to visual stimuli. She uses paint as a tool to capture fleeting moments and ephemeral subject matters, such as light, water and smoke. Through color, rendering and composition she manipulates these images to emphasize visual phenomena, which often pushes the image into surreal or dreamlike territory. She hopes that her paintings will provide an opportunity for self-reflection for viewers and encouragement to look closely at the world around them. Catherine is getting a Bachelors in Art, with an emphasis in painting, from UCSB's College of Creative Studies.
---
Sophie Arango Nebeker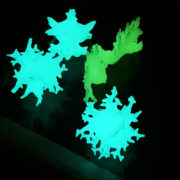 I am an interdisciplinary artist who is curious about the structure and formation of patterns embedded in natural forms, such as the branching patterns of arborescence as seen in corals, trees, or river deltas. I create sculptures as meditations on shape and form, and investigate the functional intentions of the organic system from a biological perspective.
I use cast bronze to mimic these expanding patterns, to hold onto their intricate and ephemeral structures. I want to share the physical weight of the thing in hopes that the viewer will look closer at the details to create a new relationship with the phenomena.
Recently I investigated coral morphology to reinterpret human connection to our oceans. I utilized 3D printers and high magnification microscopes to collect patterns and shapes, ultimately to create sculptural objects to be held in the palm of a hand. Through this multi-modal approach, I share the wonder and beauty intrinsic to natural systems.
---
Justin Weber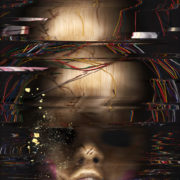 Justin Weber is an interdisciplinary artist working across multiple mediums to interrogate and dissect the spaces in which nature, technology, and time collide. His work often inhabits the increasingly blurred area that exists between the analog and digital realms, mirroring his own simultaneous embrace and rejection of modern technological advancement. The works seek to provide an escape from the mundane and an insight into the human condition by employing elements of surrealism, psychedelia, and the abject.
Justin Weber has exhibited his work at UCSB, Rio Hondo College, Los Angeles Valley College, and has been published in The River's Voice Journal in 2015. He was also the recipient of the Bruce McCurdy Award in 2019, The Pat Mahony Scholarship for Art in 2020, and Dean's Honors at both Rio Hondo College and UCSB.
---
Ariana Valenzuela
Ariana Valenzuela is a multi-media artist based in Santa Barbara California. Gravitating towards aspects of architecture and design, her work integrates sculptural elements, installation and 2D paintings which allow the audience to access the work from multiple perspectives. drawing from her personal experience with chronic pain and illness, she creates work that is abstract, minimalist and impactful.